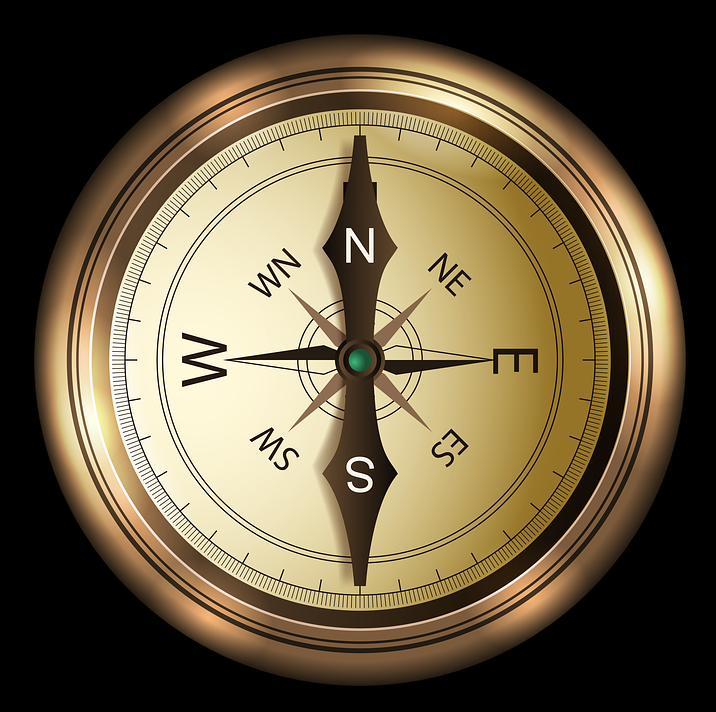 Moral Values Compass Quick Scan for Moral Leadership
The moral values compass quick scan provides tools to enhance your own and your colleagues' moral leadership. This helps you, as an individual and as an organization, to act with integrity by consistently adhering to the same values and norms. As a result, you will be better equipped to respond to technological advancements, sustainability concerns, and societal issues. It serves as a guide towards expanding your circle of influence. And don't be surprised: through this increased influence, you and your organization may become thought leaders.
It helps you, as an individual, organization, or professional group, to act with integrity. Whether you are an individual user of technology, a marketer within an organization, or a teacher and educator, the moral values compass guides you to uphold integrity. It enables you to align your actions with what you collectively deem important for society.
The moral values compass measures three things:
Acting based on personal and organizational values (first component of integrity)
Openness to influences/listening (second component of integrity)
Impact on the environment/involving the environment (result of integrity)
The moral values compass quick scan reveals your current position and suggests steps you can take, regardless of the context. It can be applied to any relevant topic for society, such as technology, ecology, wealth distribution, and more.
Model moral values compass
The moral values compass comprises four building blocks. The foundation is personal leadership, which begins with oneself. It is followed by organizational structure, openness to influences, and ultimately ends with increasing impact on the surrounding environment as an organization. These building blocks influence and reinforce each other. An organizational structure focused on feedback enhances openness, and increased openness strengthens the feedback culture, thereby fostering understanding among colleagues within the organization for external perspectives. They, in turn, bring these perspectives back into the organization, and so on. The model below represents these four building blocks: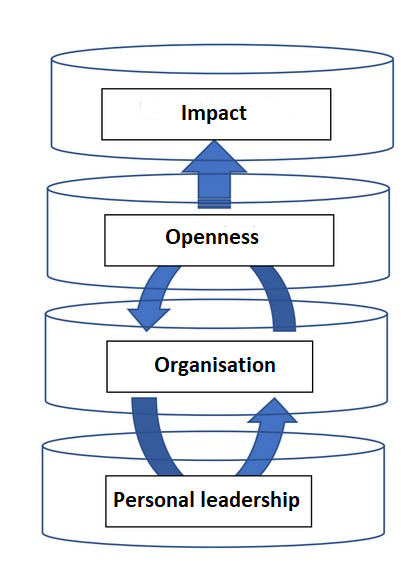 The building blocks, their interdependence, and their reinforcing effect on each other within the moral values compass.
The moral compass measures the strength of each building block. Take 30 minutes to see where you, your department, and your organization can quickly gain in moral leadership by strengthening one or more of these building blocks
Predict impact with quick scan
The above model forms the basis for our assessment of the strength of your moral values compass, whether it pertains to you as an individual or your organization. The stronger the compass, the stronger the moral leadership, and the greater the impact on the environment. Hence the purpose of the quick scan, which reveals the strength. Moral considerations revolve around doing what is good for society as a whole. A greater impact means that your deliberations have a larger and more positive effect on your surroundings, leading more people to follow and grant you leadership. This creates a self-reinforcing effect. More people following lead to a greater impact, which in turn leads to more people following, and so on. This is depicted in the figure below: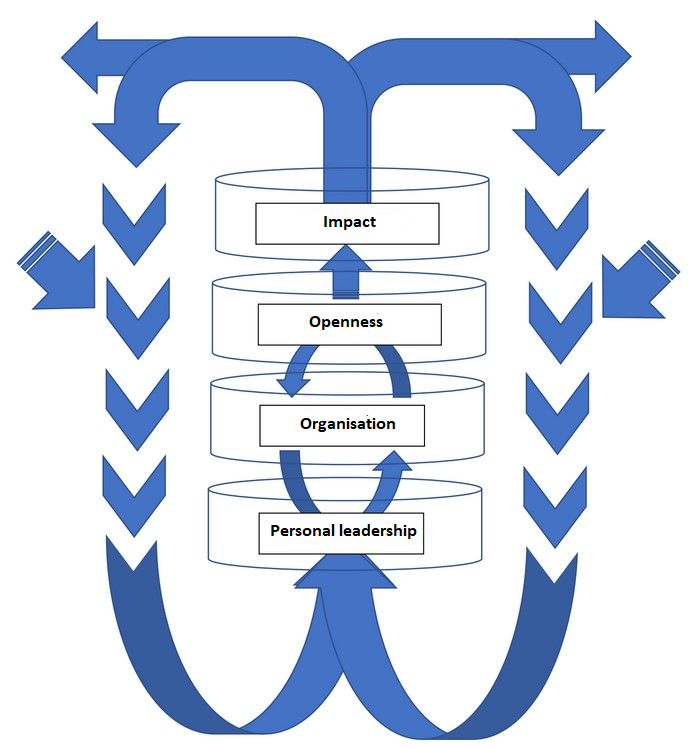 The effect of having more followers, which leads to more impact, which in turn leads to more followers, and so on.
The moral values compass strengthens moral leadership
Moral leadership exists as long as others trust and follow the moral decisions. Transparency is essential for this. In this way, everyone is aware of what is happening, why it is happening, and how the decisions are made. It allows for adjustments or discussions if necessary.
Equality is also essential for a moral leader. It ensures that voices from within the organization, customers, stakeholders, and society as a whole are heard. This allows for alignment of morals within and outside the organization. Dialogues emerge, and dialogues puncture any filter bubbles. They also help prevent accidents or unintended consequences, as described above.
Moral leadership aims for the "common good" in society. In his "Economy for the Common Good," Christian Felber provides principles for achieving this goal:
Human dignity
Solidarity
Sustainability
Justice
Democracy
These principles are indeed reflected in the moral compass
If you're interested in taking further steps with the complete values compass, please contact us.